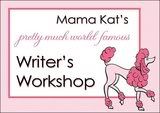 I remember putting my nose in the corner a good many times when I was a child. Although then, it was a punishment to be away from everything and everyone, now sometimes, a time out is just what I need.
Yesterday, I needed a time out badly. I woke up on the wrong side of the bed. I was a hormonal mess for some reason. I wanted to cry most of the day, and at the same time, I felt super angry. I spent time praying, and that helped my mind, but my emotions were . . . emotional!
What a nice thing it would have been for Jason to have come home, looked at me, and said, "That's it! You are in time out! Go away to a corner somewhere and think."
I wouldn't have even said, "But Jason, can't I make supper and do the dishes?" I wouldn't have asked, "Do I have to?"
I would have gladly taken myself to the corner of my bedroom. There is a bookshelf there. I would have chosen a book and read myself into another world.
I would have taken myself to the corner of my bathroom without complaining. That's where our nice big garden tub is. I have candles sitting around it, and bubble bath on a stand right next to it.
I would have taken myself to the corner of town to the local ice cream shop. An ice cream cone can make most days a little brighter.
I would have taken myself to the corner of our guestroom. I would have laid down on that cozy bed and taken a nap.
Any of those corners would have been fine. However, life doesn't stop on our bad days, so instead, I took myself to the corner of the kitchen, made supper for my amazing husband, who patiently put up with my tears, and my emotions that I absolutely could not explain.
Next time, though. I'm just going to take a time out!
When is the last time you put yourself in the corner or gave yourself time out? Treat yourself like the special person you are!
** This post is part of MamaKat's Writer's Workshop! Check it out by clicking the button at the top of this post.