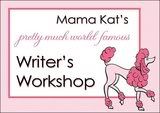 It has been awhile since I participated in writer's workshop, but I determined to participate this week. I enjoy writing, and this is a great way to get practice. This week I chose prompt #2: Write a poem for your furry friend. So, here goes.
Try one. . . failed.
You wagged your way into my heart,
It didn't take long for the waggin' to start.
We picked you up from your old hood,
We bought you toys and special food.
Try two . . . also failed.
Squeak! You race across the floor.
Squeak! The ball hits the door.
Squeak! You have it in your jaws.
Squeak! You smash it with your paws.
Try three. . . failed.
Eyes of chocolate, heart of gold,
When we got you, three years old.
Fur of white, spots of brown,
You know how to be a clown.
Nose of black, tail that wags,
Playing games that make us brag.
Like to cuddle, that you do,
Especially when we want you to.
I give up. That's all, folks.